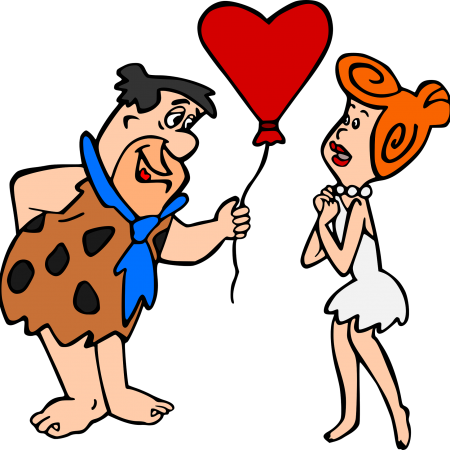 I woke up in the middle of the night with the distinct impression that I was supposed to write a blog this week about the Flintstones. 
That's right, for some reason I feel compelled to write about the first prime-time cartoon sitcom series in American history — even though one would think it has absolutely nothing to do with Kinship Radio, Christianity, or Jesus.
"The Flintstones" aired on ABC from 1960-1966 and covered the wacky exploits of Fred Flintstone, his wife Wilma, and their neighbors Barney and Betty Rubble. Later, Fred and Wilma would have a daughter named Pebbles and Betty and Barney would adopt a little boy named Bamm-Bamm. 
As the theme song told us, the Flintstones were "the modern stone-age family." They had cars which were powered by their feet…except in one episode where Fred fills his car up with Ethel from the trunk of a wooly mammoth named Ethel. They also had televisions made out of stone and the garbage disposal was a dinosaur under the sink which ate the things scraped off the plate.  All of this took place in a town called "Bedrock."
Fred Flintstone was loud, brash, egotistical, and pretty much obnoxious in a wide variety of ways. He often came up with "get rich quick schemes" and would frequently lie and/or cheat to get what he wanted. 
He was also sexist. In my humble opinion, the most sexist statement ever uttered on network television came out of Fred Flintstone's animated mouth when he said, (upon learning that Wilma had bought a minkosaurus stole on credit at a local store) "Wilma Flintstone, have you lost your mind? Now take that thing back before I sue the store for selling it to you!
Despite all his flaws, Fred's best friend Barney was a true and loyal friend. And therein lies our first Biblical connection. "Barney" is the common nickname for someone with the given name "Barnabas."  The disciple Barnabas is described in the book of Acts as "a generous giver, a faithful friend, a committed encourager, and a forgiving brother." The cartoon Barney was all of those things to Fred, even when Fred was abusive, uncaring, greedy, and even foul-mouthed to him. (I believe Fred's go-to cuss word was something like "rassa-frassa-blatza-natza" but I could be wrong on this one. I could find no definitive reference or spelling for this bit of historical information.)
But the thing about Fred Flintstone that was striking was that, despite all his flaws, in every episode of the series I can remember, Fred eventually comes to his senses, realizes how he has failed, and repents of his sins. This is followed by Wilma and the rest of the cast showing him grace, forgiving him, and rejoicing with him.
In short, each episode is a retelling of the Parable of the Prodigal Son.
Charles Dickens said the Parable of the Prodigal Son is the greatest short story ever told. And it has been re-told over and over and over again in different forms.  The Rolling Stones, Iron Maiden and Kid Rock have all recorded songs titled "Prodigal Son." Even Shakespeare referenced it in two of his plays.
Whether the prodigal was Fred Flintstone or Ralph Kramden  or Beaver Cleaver or Jerry Seinfeld, it's a story and theme that is timeless and everlasting. Each and every one of us is a prodigal. Sometimes every day of our lives. Each of us falls down and finds him or herself feeding pods to pigs instead of being crowned the Grand Poobah we thought we'd one day become.
Each of us longs to come home to the Father.
The glorious news is that the Father comes running every time. He puts sandals on our aching and bare feet, takes off our dirty clothes and gives us a fine robe, washes us up and puts a ring bearing His family crest on our finger, and throws a banquet with music and dancing for us when there was no way we deserve it or could have earned it.
And, come to think of it, maybe that's why "YABBA-DABBA-DO!" sounds so much like "HALLELUJAH!"
Today's Praise
"His father said to him, 'Look, dear son, you have always stayed by me, and everything I have is yours. We had to celebrate this happy day. For your brother was dead and has come back to life! He was lost, but now he is found!'" Luke 15:31-32 (NLT)