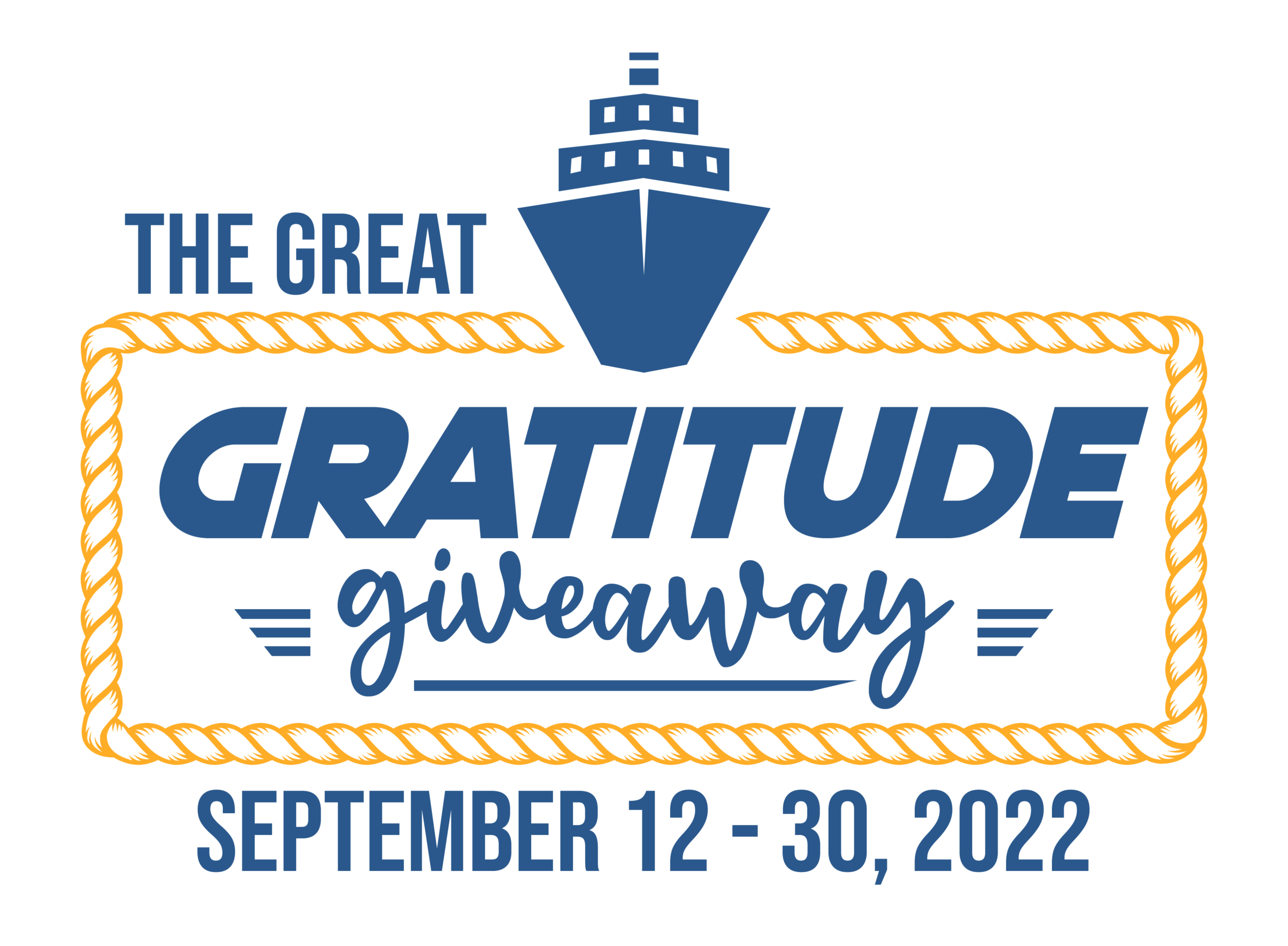 I'm sure many of you have noticed that the deadline for Kinship Radio's Great Gratitude Giveaway is fast approaching. 
To recap: Tell us, in 250 words or less, why you are grateful to the Lord for Kinship Radio, send it to us either via the entry form on our website or the USPO, and you will be entered into a random drawing to win (drumroll please): One cabin (VH Deluxe Verandah Ocean-View Stateroom), dual occupancy on the Turning Point Ministries Caribbean Cruise Conference in December 28th, 2022 to January 4th, 2023.
It's the biggest, grandest, coolest prize ever given in any Kinship event ever in the history of the known universe!
The entry form and the full contest rules are here: https://kinshipradio.org/home/the-great-gratitude-giveaway-entry-form/
Here's some details you may not have noticed: The Grand Prize also includes $180.00 in taxes for each winner for the cruise (so you don't have to pay them), $298.00 in Conference Fee for each winner for the Turning Point Conference, $500.00 per person to go towards airfare, and$175.00 total to go towards a hotel room on December 27th, 2022.
Also, second prize is a spiffy floating keychain and EVERYONE who does not win the Grand Prize wins one. (That means everybody wins something!)
It would be great if you sent in a donation with your entry, but it's absolutely not required to win.
This is a random drawing from all eligible entries, so you absolutely will NOT be graded/judged on spelling, grammar, punctuation, or hermeneutics. Just be yourself and tell us why you are grateful for what the LORD does through Kinship Radio!
You may not enter on behalf of another person, entries are limited to one per household, and employees of Kinship Radio, Kinship Radio volunteers, and persons involved with providing the prize or award, or the immediate families of such employees, volunteers and persons, are not eligible to participate or win.
That last rule means I can't win, (I couldn't keep it to less than 250 words if they beat me with a stick anyway) but it doesn't mean I can't tell you why I am grateful for what the Lord has done through Kinship Radio because:
If there is anything this world needs, it is more Jesus. Kinship Radio proclaims Jesus as LORD 365 days per year, 24 hours per day, 7 days per week. 

Every time I hear the word "Hallelujah" on Kinship Radio it blesses my soul.

Every word in the Bible is God-breathed and inspired by the Holy Spirit, so whenever Scripture goes out over the airwaves, the Holy Spirit is moving in power to anyone with a radio or internet. Millions and millions of people can potentially be listening at any given moment and God specifically says when His Word goes out it does not return to Him void. That's amazing and powerful and glorious!

Likewise, I believe the Holy Spirit inspires the artists who produce the music that is broadcast on Kinship Radio. Much of the Bible is music (Psalms) and the LORD specifically says we should sing to Him a new song. (Psalm 96:1) I myself have been ministered to, uplifted, inspired, helped, and healed by those songs and I know others have too.

The solid, Bible-based teaching and preaching we hear on Kinship Radio also uplifts, encourages, grows, inspires, guides, directs, heals, helps, and ministers to my soul and the souls of many others through the power of the Holy Spirit, the cross, and the empty tomb.

Broadcasting on Kinship Radio is part of the fulfillment of the Great Commission because it brings the Good News all over the world.

I am eternally grateful for what Kinship Radio does for my brothers and sisters in Christ. We have heard, over and over again, testimonies from listeners who have been blessed and healed and encouraged by this ministry. There has been no end to the signs and miracles of Jesus present in the lives of the listeners –and that equips them to make the world a better place through the power of the Father, the Son, and the Holy Spirit.

Kinship Radio is continual evidence that Jesus is still changing the world. There truly is no end to the increase of His kingdom. We do not grow weary in doing good because Kinship Radio and all the churches and ministries  and believers we hear about on Kinship Radio who are doing the good works God put in place for us to do since the beginning of time convince and encourage us that we are a people of hope –that the darkness of this present world has not and cannot and never will extinguish the light that is Jesus Christ.

That a ministry like this is listener-supported greatly encourages me because it means there are people out there (and a lot more than most people think) ready and willing to follow where Jesus leads them, to listen to the Holy Spirit, to do the will of the Father, and to have the faith it takes to know all God's promises are true.
So, for those of you procrastinating, send in your entry now because the deadline is this Friday! I promise you will not regret it and I'm willing to back that up with a spiffy floaty keychain at the very minimum. 
Today's Praise 
Hebrews 12:8
Therefore let us be grateful for receiving a kingdom that cannot be shaken, and thus let us offer to God acceptable worship, with reverence and awe, (ESV)