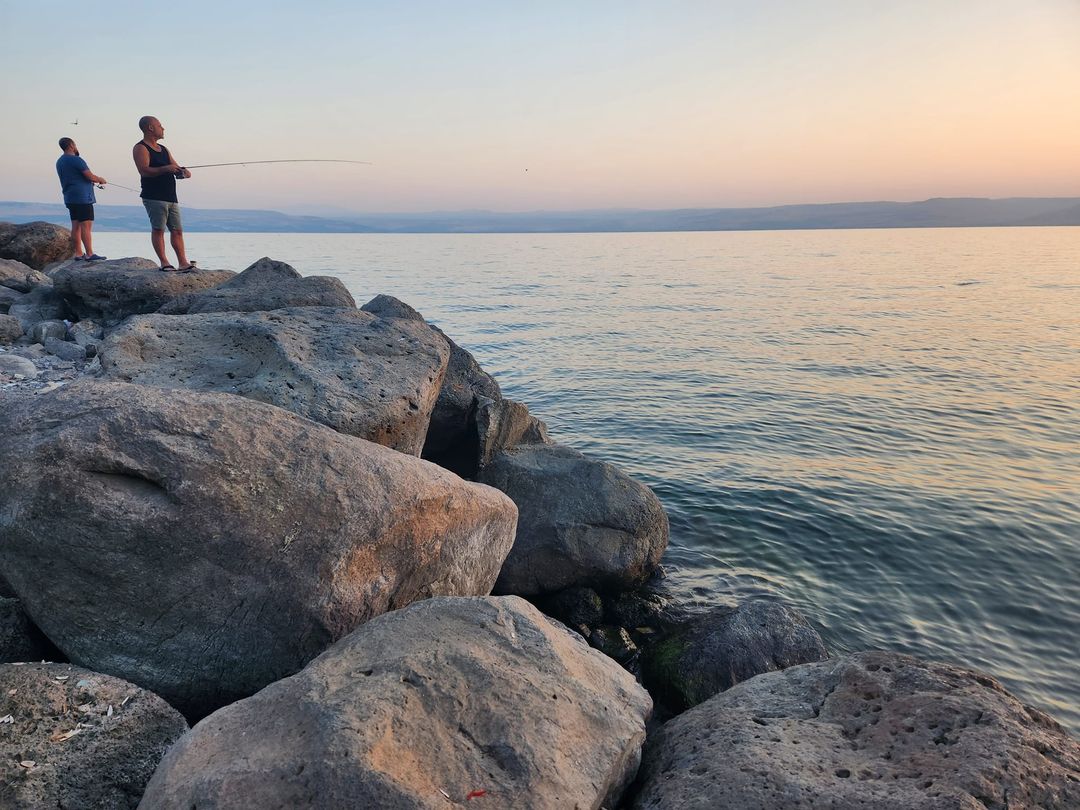 I've just returned from two weeks in Israel.
It was glorious, magnificent, amazing, and fabulous.
So much happened and my soul was moved in so many ways, I'm still trying to process it all through the fog of the jet-lag. Here are some highlights:
I met and had a chance to talk with several native Israelis. They are a beautiful people with deep and loving souls. I often wore a Kinship Radio hat, introduced myself as the blog writer for a Christian radio station, explained that American Christians love Israel, pray for Israel, and know that the LORD says that those who bless Israel will be blessed and those who curse Israel will be cursed. I gave them the opportunity to say anything they wanted to American Christians and by far the most common response was that it should not be about religion but about loving one another. I assured them that we agreed that a religion of rituals devoid of a real and loving relationship with God and our fellow human beings was empty and meaningless. 
My friend Javier and his wife, Lucy, were part of the group. When I originally told Javier about the trip, a little voice in the back of my head tried to raise doubts that Javier's native Spanish would find him very few people in Israel to talk to. As it turned out, not only did Javier and Lucy find Spanish-speaking people to talk to every single day, they found people from their hometown of Bogota, Columbia, to speak to every single day. On one particular day, we were at a site that overlooks the Valley of Megiddo and, out of the corner of my ear, heard Javier and Lucy once again sharing with someone from Bogota. I walked over, introduced myself and asked their new friends if there was anyone left in Bogota, Columbia, because it certainly seemed to me they were all in Israel talking to Javier and Lucy.
On every mission trip I've ever been on, I've met someone who turns out to be a new best friend –and that person has always been a pastor. This trip was no exception. Pastor John Christie and I are now fast friends who enjoy proclaiming the deep and glorious overwhelming love of Jesus Christ in a Scottish accent. "Aye, d'ya not know 'tis a beloved son, ye are? AYE! Tis true laddie!" 
One morning in Tiberias on the shores of the Sea of Galilee, I woke up early and went off in search of a place to watch the sun rise, pray, and praise the LORD. I found a little trail right off the street and thought to myself, "This looks like a path to a fishing spot." Sure enough, when I walked down it, I found two fishermen standing on some large rocks casting surface lures. As I was praying, I watched them catch two fish. The sun came up glorious and wonderful amidst my praise and gratitude for being put in this place and at this time and, when I had finished, I went over and introduced myself. We got to talking, as fishermen do, and I shared some photos on my phone of fish I had caught over the summer and then… one of them motions toward his pole and asks if I'd like to try fishing. I was flabbergasted. I've wanted to fish the Sea of Galilee ever since I saw Joshua Aaron's HalleluYah video several years ago but never in my wildest dreams imagined it would really happen. I quizzed my new friend seriously as to whether I would get in trouble and he said, "No, please, go ahead." So I did. I made two casts and I had a bite on the second one! I didn't hook the fish, but I was so overwhelmed at that point I couldn't keep fishing.  I'm still giggling about it. I am clearly God's favorite. 
On another morning, I was once again sitting watching and waiting for the sunrise. This time it was in a chair atop the hostel where we were staying. And in that moment when the sun came peeking over the hills of Galilee and the waters below were on fire with the glory of the LORD, I was brought to tears by the beauty of it all and the enormous, magnificent burning love our Abba Father has for each and every one of us. Beneath the brush strokes of His daily masterpiece, the city below scurried to and fro with all the things human beings do in their daily lives. We may not even notice it, may not appreciate it, may not even worship Him for it, but He pours out new mercy and power and shining glory on all of us each and every day. 
And then I realized that every single moment of every single day, the sun is rising somewhere over this earth and His people. His beauty and His overwhelming majesty is never-ending, continuous, infinite,  and worthy of all our praise.
The Son has risen on us all.
More next week.
Today's Praise
Hosea 6:3
"Let us acknowledge the LORD; let us press on to acknowledge him. As surely as the sun rises, he will appear; he will come to us like the winter rains, like the spring rains that water the earth." (NIV)
Photo by author.