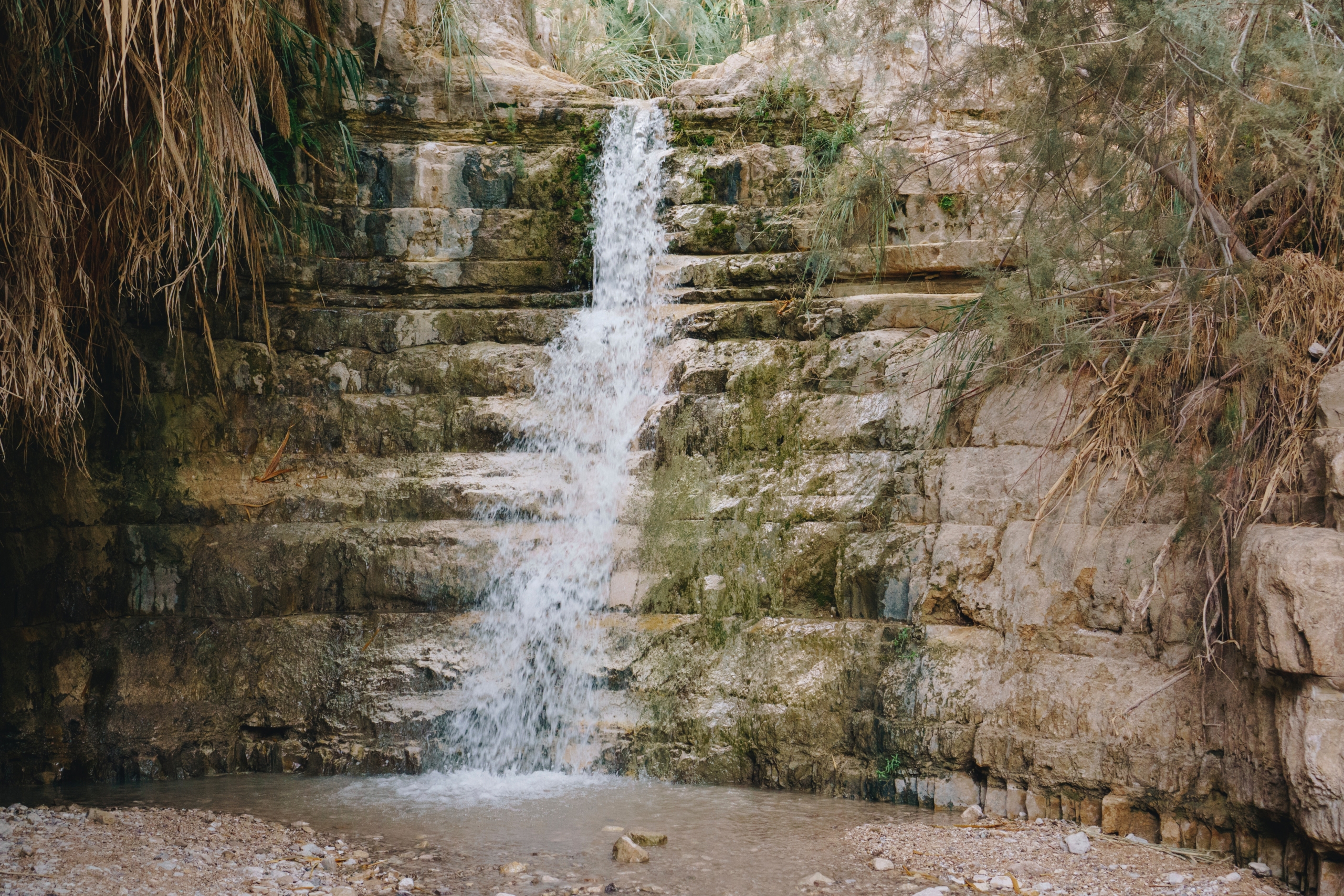 There is a place in Israel just a little way off from the Dead Sea called En Gedi.
The shore of the Dead Sea is a hot, dry, desolate place. It is the lowest place on earth –lower even than Death Valley, California. In fact, at 1,388 feet below sea level, the Dead Sea is about six times lower than Death Valley and over twice as far below sea level than any other place on earth.
The sun pounds down on the Dead Sea. Nothing grows on its shores because the soil is so salty it is toxic. It is a barren wasteland capable of killing man and beast.
But En Gedi is 3500 acre oasis right next to the Dead Sea. There are four springs bubbling water up and into the Judean desert that feed En Gedi. It's an Israeli National Park and Nature Reserve visited by over one million people per year. Just a short hike off the main road, there's a beautiful waterfall flowing down the steep rock face with an inviting pool below it. The area around it is green and lush. Wildlife abounds here and the area around the falls is cool and refreshing. The water is clear and cold. There are caves throughout the area where it would be easy to take refuge from the blazing killer sun.
And that is what David did when he ran from Saul. This is the place in 1 Samuel 23:29 where David and his men took refuge when they were being hunted. This is the place where David cut the corner off Saul's robe rather than kill him.
Over the past week, I've come across an increasing number of people who have needed an En Gedi to rest, recover, and recuperate. Beth Crosby wrote about En Gedi when she went to Israel in 2017: https://kinshipradio.org/home/2017/06/02/the-wilderness-of-en-gedi-day-2-in-israel-by-beth-crosby/
My wife, my daughter, and myself all came down with the same cold. We've spent a lot of time in our personal En Gedis sleeping and seeking the peace of healing. People near and dear to me have suffered medical and emotional challenges that are best healed by rest and and being recharged with the peace that passes all understanding.
We all need our En Gedi from time to time.
Even Jesus went away to lonely places to rest and recharge and spend time with the Lord. Yes, He was fully God, but He was also fully human.
There is no shame in that. In Psalm 46:10, "He says, "Be still, and know that I am God; I will be exalted among the nations, I will be exalted in the earth." (NIV)
He will be exalted in all the earth.
With all that is going on in the world, that knowledge, that HE will be exalted in all the earth is an En Gedi of its own. God is in control. He's got this. Wars and rumors of wars will come and go, but we are to see to it that we are not alarmed. (Matthew 24:6)
And, come to think of it, Kinship Radio is an En Gedi, too. The praise and worship and teaching broadcast every day are like streams of living water that renew and refresh in a dry and barren land. We are not left desolate. We are not abandoned or left hopeless in the scorching heat of the desert sun.
Springs of hope and life and peace do spring up in the desert.
Kinship Radio has even arranged for an En Gedi-like event coming up on April 9. You can find details here: https://kinshipradio.org/home/womens-conference-landing/
Today's Praise
Isaiah 49:10
They will neither hunger nor thirst, nor will the desert heat or the sun beat down on them. He who has compassion on them will guide them and lead them beside springs of water. (NIV)
Photo by Haley Black, courtesy of Pexels.