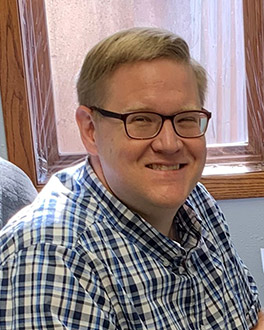 Ryan Freed
Production Manager
New Morning announcer, Ryan Freed grew up in London, Ohio, just outside of Columbus. Growing up, he was loud, boisterous and you could always hear him coming. A troubled adolescence led to his parents tricking him into thinking it was his idea to switch to a private Christian school. It turned out to be divinely appointed and a real turn around for him, leading to a rededication to Christ and a desire to serve.
After high school, Ryan went to Cedarville University with the intention to major in music and become a big hit on Christian radio. One class of music theory killed half of that dream, but after switching to a major in Communications, he found his true calling and mostly keeps the singing under wraps.
Ryan did his internship at the KIAM Radio network in Nenana, Alaska. After that he worked for Cox Broadcasting in Dayton(K99.1, 1290 WHIO), Salem Radio Network in Columbus Ohio(880 WRFD), founded and ran a low power station in London Ohio, (WCYC-LP) , and mostly recently, worked 15 years for Strong Tower Christian Media in Xenia, Ohio(Hope 100.7, 93.7 the Light).
Ryan married his wife Kris in 2002 and they have 7 children, Kalvary, Glory, Malachi, Korban, Obadiah, Mercy, and Zebedee. Their house is LOUD. With any spare time that he has, Ryan loves to fish, hunt, and forage for edible mushrooms and plants. You can often find he and members of his family, exploring all the new hiking trails they now have access to in Minnesota.
Ryan is very happy to be sharing mornings with you, here on Kinship Christian Radio.