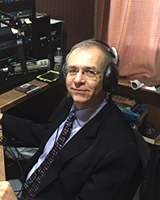 Javier Rodriguez
Announcer
Our God grants us the desires of our hearts. At a very young age I dreamed with becoming a radio announcer. However, I always thought that my voice was not apt for the job. Now I see how the Lord granted me one of my deepest desires. He has given me this new opportunity at KJTS to bring His Word in Spanish to the nations.
My family and I gave our lives to serve the Lord. After serving God for many years in Colombia, South America, with the local church, in 1996 God opened the doors so we could come to the USA to work for Him. After a time of training in Youth With a Mission as missionaries, God took us to serve in Monterrey, Mexico. During 2 years and 8 months we worked there with Short Term Outreaches to bring the gospel door to door to families in need.
In the year 1999, the Lord moved us to the town of Wells, Minnesota where we have been working and helping the Hispanic community, as pastors. God has also allowed me to work as a nurse in Albert Lea.
I am very thankful to the Lord it has pleased Him to use me along with my beautiful wife, my five children and my seven grandchildren to expand His kingdom.