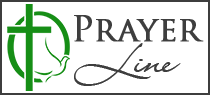 Welcome to Kinship Christian
Radio's Prayer Line!
Anonymous
Please continue to pray for Lois who has an aneurysm in her heart & having a hard time seeing the heart surgeon in Mpls. as the Dr. has been in surgery twice (last week & again today) when she was to have an appt. She is very stressed about this whole situation and wanting prayers for a decision to be made re: surgery, or whatever.
Received: August 26, 2019
Powered by Prayer Engine