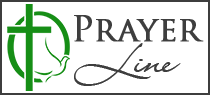 Welcome to Kinship Christian
Radio's Prayer Line!
Anonymous
July 17, 2017 my son was rear-ended on Hwy 9 near Estherville, IA The 17 year old girl was going 105 mph & texting. American Family Insurance has not paid yet, neither has this girls family. Please pray for financial help to pay hospital & Dr. bills, house payments, & my son to be healed, & that his has two little kids don't starve. Pray for encouragement & strength to keep God as our Source. American Family Insurance is trying to wear me out, but I say: "I am strong in the Lord & the Power of His Might."
Received: August 26, 2019
Powered by Prayer Engine