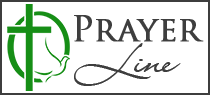 Welcome to Kinship Christian
Radio's Prayer Line!
Anonymous
Please pray for our daughter-in-law, Christine, who is wanting to end her marriage to our son, Ben. Pray that God intercedes and opens her heart to loving him again to prevent their separation. Pray that He heals her heart and lifts her from her dark and depressed feelings. Pray that the Holy Spirit's love and grace descends on her that she will accept Ben's re-affirmation of his love and commitment to her. Pray for God's blessing on Ben that his broken heart may be healed, too. Pray also for their children that they be spared from broken hearts and a broken home. May God be glorified through this work in her and them and in their continued marriage! Praise be to God!
Received: August 24, 2019
Powered by Prayer Engine