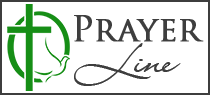 Welcome to Kinship Christian
Radio's Prayer Line!
Anonymous
Please pray that our grandchildren will know Jesus...2 are in college and the others in elem., middle, & high school. School is stressful for them all...pray that they will have good Christian friends and not fall into unChristlike paths but to follow Christ and have a good start to their new school year and throughout the year. Their families are both going thru a lot of crisis right now...God knows & understands & will see them thru!!
Received: August 21, 2019
Powered by Prayer Engine