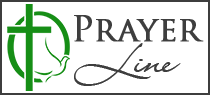 Welcome to Kinship Christian
Radio's Prayer Line!
Cheryl
Monday, April 8, 2019
Journal entry by Kathy — 10 hours ago
Word of the day: quiet
Tony had a good, but quiet day. He was a bit disappointed to learn a handicapped van, found on craigslist, was sold... The van we bought last winter has rust holes...not what Tony's used to having! (Low mileage... something we could drive until he'd be able to help shop for one.)
His flush went okay, but there had been evidence it wasn't draining properly. I forgot what he said about the Midodrine.
I received an email from Lisa, the Nurse Practitioner, he sees in Rehab at Mayo . She's able to fit him in at noon on the 25th, the day he goes to the Hand Clinic. We discussed she may be the one to order a bone density scan to help determine if the sediment in his urine is from bones decomposing from disuse. Maybe order a standing frame...that, he was concerned, could result as being too much work for the staff... (He's paying for the gold plan!) . Seems to me he could do that rather than being put to bed for an hour each afternoon... We have to get our questions ready for his appointment. We need to try to be short and to the point so she still gets lunch!!
Thanks for praying...
Received: April 9, 2019
Powered by Prayer Engine