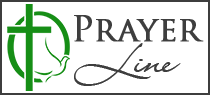 Welcome to Kinship Christian
Radio's Prayer Line!
Anonymous
Please pray for our grandson. He starts the final part of his Army basic training and is very hard. 96 hours.
Also for our great-great nephew who lives up by the Twin Cities. He has a respiratory infection and is on oxygen in the hospital.
He is only 5 months old.
Received: September 13, 2021
Powered by Prayer Engine