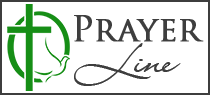 Welcome to Kinship Christian
Radio's Prayer Line!
Anonymous
I would like to update the prayer quest for my sister who was hospitalized 7-2-21 for acute pancreatitis. She is at home now recuperating but will be having test(s) on 8-16-21 to check a tumor on her pancreas and a lesion on her liver. Requesting prayers that there is no cancer found and for continuing progress of healing of her body. Thank you.
Received: July 27, 2021
Powered by Prayer Engine