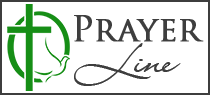 Welcome to Kinship Christian
Radio's Prayer Line!
Cindy
Dear God, Protect, grow, move, and direct those who I care about. Grow their joy & abilities at serving you. Bestow all these things on the children. Surround them with great counsel & friends. Put to rest the church leadership issues. Make successful our marriage, ministries, and projects. Bring healing, wisdom, love for people and an abundance of joy in our life. Deliver us from all attacks of Satan. Thwart evil. In Jesus name, Amen.
Received: July 22, 2021
Powered by Prayer Engine