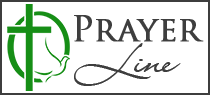 Welcome to Kinship Christian
Radio's Prayer Line!
George Methvin
Father God I am asking for prayers. I had an MRI yesterday and they are suspecting I might have renal carcinoma on my kidneys. I am very scared right now and need prayer urgently. I am asking that GOD will not allow this cancer to take over my kidneys and that He will restore my health. Please pray for me. Thank you and GOD bless you all!
Received: July 21, 2021
Powered by Prayer Engine