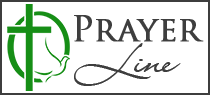 Welcome to Kinship Christian
Radio's Prayer Line!
Anonymous
Dear Lord, I pray for safe and healthy travel for my loved one and me. Please bless us and protect us as we venture from home. Provide safe paths and lodgings for us always! I also pray for those at home for good health, safety, and success handling any challenges. I also pray for your blessings and consistent prosperity to be granted to my family, so our large bills may be paid quickly. Thank you, Lord! In Jesus' name I pray!
Received: July 13, 2021
Powered by Prayer Engine