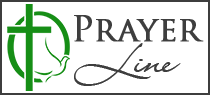 Welcome to Kinship Christian
Radio's Prayer Line!
LJ
God, Leland needs you now. Please deliver him favorably soon out of this legal situation for Your glory. We cancel every assignment of the enemy, by the blood of Jesus, and declare protection, favor, mercy, grace, physical & emotional strength and peace of mind over him! We are believing for your divine intervention for his freedom and mental health rehab. Surround him with your angels for support. What the enemy means for evil, You mean for good! Please Move Lord in a mighty miraculous way on Leland's behalf.
Received: June 6, 2021
Powered by Prayer Engine