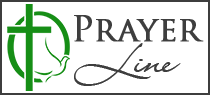 Welcome to Kinship Christian
Radio's Prayer Line!
LJ
Praying for God's protection, forgiveness, grace , mercy, favor and leniency regarding an unfortunate important legal matter. Praying for freedom and the focus to be on getting proper mental health care rehab during this difficult time. Praying for Gods angels to intervene and for a miracle blessing to prevail in my friends favor.
Received: May 4, 2021
Powered by Prayer Engine