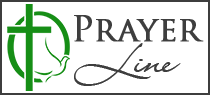 Welcome to Kinship Christian
Radio's Prayer Line!
Suzy
my middle son, Joe needs prayer and healing for his right arm and shoulder from when he received the Pfizer Vaccine 2 and half weeks ago .
Lots of pain and loss of range motion.
We ask you lord when two or more are gathered in your name it will be done.
Thank you lord that you are the great physician. Heal his arm in Jesus's name.
Amen
Received: April 7, 2021
Powered by Prayer Engine