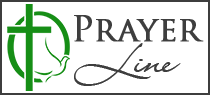 Welcome to Kinship Christian
Radio's Prayer Line!
Anonymous
Please pray for our good friend's sister, Patsy, who lives in El Paso, TX., & is fighting Covid ..she is in the ICU, had 104* temp., and needs as many prayers as we can provide. El Paso has 50% or more population with this disease. THANK YOU FOR PRAYING!!
Received: November 21, 2020
Powered by Prayer Engine