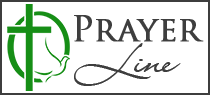 Welcome to Kinship Christian
Radio's Prayer Line!
Anonymous
Please pray for Godwin to stop obsessing over his divorce almost two decades ago to my mother who has been dead for two years.
Please pray for him to go on with his life and stop trying to get revenge and cause harm to me and my family.
Please pray for the LORD to intervene and remove him from our lives and give him peace in his mind save his soul.
Received: May 21, 2020
Powered by Prayer Engine