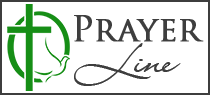 Welcome to Kinship Christian
Radio's Prayer Line!
Anonymous
God has been so silent in my life for so long. I pray and pray and pray. I don't feel his presence which I so desperately need
and have been searching for. I am suppose to trust God but how can I do that when I don't hear anything and he doesn't answer my prayers and my life seems to get worse. I want to believe God knows I exist and loves me and hears my cries but it is hard to do that right now. Please pray that I hear something from God, anything!
Received: March 25, 2020
Powered by Prayer Engine