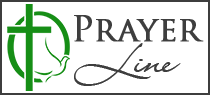 Welcome to Kinship Christian
Radio's Prayer Line!
Anonymous
Nancy called in to the station asking if we would please pray for her sister's... Irene and Ferne who are not expected to live long - Both living in their 90's. Ask and pray to God that he will strengthen and comfort the families of both sisters. Pray that the Lord will give them both in his perfect timing and will, a peaceful and calm passing. In Jesus name, Amen.
Received: March 24, 2020
Powered by Prayer Engine