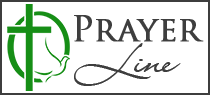 Welcome to Kinship Christian
Radio's Prayer Line!
Cheri Frank
Someone very near and dear to me has just been diagnosed with cancer and is awaiting consultation for treatment options. Thankfully the cancer does not appear to have spread outside the tumor. Please pray for strength, comfort and healing as well as becoming cancer free!
Received: February 10, 2020
Powered by Prayer Engine