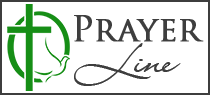 Welcome to Kinship Christian
Radio's Prayer Line!
Christine Nichols
I have a prayer request for my sister, Suz. Telltale cancer symptoms has returned for the third time. She is asking for guidance from the Lord for herself, and strength/peace for her husband, Vern. Suz is asking to be placed on prayer lists. She knows the power of prayer in Jesus' name and that the Lord hears the prayer of His believers.
Much thanks and blessings,
Christine
Received: January 7, 2020
Powered by Prayer Engine