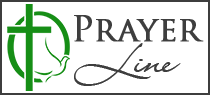 Welcome to Kinship Christian
Radio's Prayer Line!
Tracy Jones
Please pray for Jesse. She had an infection in her eye and it has now gotten worse and the doctors have said they need to take it out. She is headed to Burnsville for a second opinion. Please pray for her and her family as well as the doctor. Give him the wisdom to know what the best thing to do.
Received: December 23, 2019
Powered by Prayer Engine