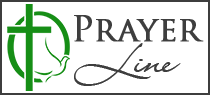 Welcome to Kinship Christian
Radio's Prayer Line!
Darla Friesen
Our daughter moved to Texas for a job on a horse ranch only to learn after working for 3 weeks and signing a 6 month lease on a house across the street from her job, that they had hired a man to do her job and never intended to keep her. She is now in desperate need of a job. Please pray that she would be able to find a job with a Christian influence to speak life back into her and help replant her feet firmly in her faith which has been badly shaken.
Received: November 30, 2019
Powered by Prayer Engine