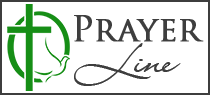 Welcome to Kinship Christian
Radio's Prayer Line!
You may add your prayer request to our prayer wall using the form below. Once your prayer request is received, we will share it according to your instructions. Feel free to submit as many prayer requests as you like!
Please pray for my friends D and A for healing of cancer permanently, and a spine issue in the neck area. That surgery will not be necessary. thank you. This family has suffered greatly over a period of eight years. Then they had a small reprieve. But now the husband is battling cancer and the wife has a spinal injury in her neck. The surgery she faces is very difficult and involves wearing a brace for long periods of time that will keep her head high. Your prayers for her to be healed instead of facing this surgery are highly appreciated.
Received: March 16, 2020
Powered by Prayer Engine