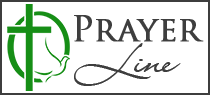 Welcome to Kinship Christian
Radio's Prayer Line!
You may add your prayer request to our prayer wall using the form below. Once your prayer request is received, we will share it according to your instructions. Feel free to submit as many prayer requests as you like!
The bible says that JESUS did many many more miracles than those that were written in the bible so I would like to think this was one of them!We pick up the story after the man tried to pull a fast one on JESUS by asking him was it lawfull to pay taxes to Ceaser?You know the story the next thing he knows he is on his way to the lake to try to find a fish with a gold coin in his mouth?First he goes to the synogouge where he had been promised a prominent position after he tripped up the LORD!When they heard the story they kicked him out he went home and his wife kicked him out for being a loser he goes down to the lake and when all the people see he is fishing with his hand start to mock him with great derision!He catches the fish and when he sees the gold coin he says well all is not lost the this is one rich coin!So he goes to the tax collector and says I am here to pay the taxes or JESUS and his men!The tax collector says o.k lets see there is a tax on changing water to wine and there is a tax on feeding five thousand people with two loaves of bread and fish and a few more he listed then he weighed the coin and said ok this coin is worth one thousand dollars and his tax comes to nine hundred and fifty dollars so the man says to himself well at least I will get fifty dollars out of this then the tax collector goes by the way you owe me 50 dollars !Fifty dollars what in the world for?"Fishing without a liscence the man says!Now the man is broken kicked out of the synogouge kicked out of his house laughstock of the town and broke so he runs back to the LORD falls down on his knees and begs forgiveness the LORD immediately kneels next to him put his arm around his shoulder and leads him in the sinners prayers the man sobbing uncontrolably gets saved !Now there is great joy in the camp the disciples are all hugging him and giving him a hi five!Peter jolkingly says hey what kind of fish was it and the man says why it was a goldfish of course and they all burst out laughing then Mathew says 50 dollars boy did that go up when I was tax collector it was only 25 they could not stop laughing!Then JESUS turns to the man and says now that you are saved your first assignment is go back to the lake there are 50 people there bent over trying to catch a fish with there hand you can tell them the truth of wwat has happened to you!Mathew you go with hime and then go witness to the tax collector lets have a revival here because one person who was lost now is found!GOD richly bless you brother Danny 3/13/19 p.s I know I cannot prove a word of this but isn't this the LORDS heart? p.p.s please say a prayer for me when I write these stories I don' feel so homeless
Received: March 13, 2019
Hi my wonderfull brothers and sisters at Kinship Christian radio!When Joseph was thrown into prison we read he received GODS favor!Sometimes by the virtue of Lifes experiences we can pick up the bible and read something we have read 100 times and we say wow i never saw that!Prison is were the meanest angriest people in the world live!Now here walks in Joseph who has been accused of sexually assaulting Potiphers wife!Now number one they don't like foriegners and number two word has spread that the first person to beat him up will get an extra sandwich at night for a month!The next thing we read they were all happily working for Joseph that was no ordinary favor that was GODS miracle working favor the spirit of GOD was so powerfull in that prison that they all started to like each other as they listened to JOSEPHS story about GOD in his familys life many turned their hear to GOD!And when JOSEPH became second in command of Egypt you know he did not forget them and worked hard for their release and to find them jobs!I pray because you have prayed for me all these years that you will experience the same GOD miracle favor!GOD richly bless you brother Danny 3/12/19 p.s there now that didn't hurt a bit
Received: March 12, 2019
Pray I get a new job with daytime hours that is ideal for me in every aspect possible and that I never must work Sundays.
Received: March 10, 2019
Hi my wonderfull brothers and sisters at Kinship christian radio!Don't forget to move your clock ahead tonight one hour!That is so cool one hour closer to the LORD for free!GPD bless you brother Danny 3/9/19
Received: March 9, 2019
D R Congo
May I request prayer about D R Congo? Situated in Central Africa, past 25 years has suffered devastating civil war's D R Congo need your prayer.
Famous for Mukwege and 400 thousand female victims (A lot of them are infected with HIV with this evil, half of them 'Fistula',which 90% of them cannot get any treatment) Genocide and torture for civilians were ubiquity past 25 years. Would you please pray for : 1) 450 thousand refugees,93% children don't have malaria protection,4 million orphans and 2 million children malnourished; And for 2)Children under 5 years old fighting their lives with Pneumonia,malnutrition,tuberculosis,malaria,HIV,low birth weight,diarrhoeal disease.(Also up to 1)12 years children,2)up to 40 years adults (Population structure of D R Congo are concentrated on this age) 2)Pregnant women (Maternal mortality rate is too high) 3)No more genocide (clash between people) to happen,mercy on civilians in during wartime. 4)Another I'd like to request prayer very 'earnest' is this situation is spread exactly same with Central African Republic and Chad.(Highest malnutrition rate country in 2017) I'd like to request the prayer case by case the same. Adding some more information there are child soldiers using as human shields.30 thousand among them,there are a lot of 7,8 years old boys.For girls, they cannot escape violence for them. For praying for this country most thing mind me was that there were girl child soldiers giving up themselves (prospect of release and precious themselves) in dark place even now.Short malaria on D R Congo situation : https://www.youtube.com/watch?v=Uq5YWlN6GrE /
Lastly pray for 5)mercy on people who are involving battle today 6)Female protection from violence/evil against women during wartime.)
Please permit me to update 2-3 times 1)to subvert this war situation and 2)wartime mercy
Thank you for your attention for Congolese people.Matondo!
Received: March 9, 2019
Prayer Warriors Pray for JMK, new beginnings for JMK and Mary TODAY IN JESUS NAME! Pray for breakthroughs for JMK with Mary. Break those chains Lord that are hold him back from love, compassion and feelings. Set his mind free. Holy Spirit pursue and capture JMK heart this day In Jesus Name. I believe in miracles, favor and blessings Jesus help us.Great is your faithfulness.
Received: March 9, 2019
I searched for many years, all the answers were unsatisfactory. But finally I found a satisfactory answer here: www.BlasphemyAgainstTheHolySpiritIsForgiven.wordpress.com
Received: March 8, 2019
Hi my wonderfull brothers and sisters at Kinship Christian radio!When peace like a river attendeth my way when sorrows like sea billows roll what ever my lot thou hast taught me to say it is well it is well with my soul!GOD richly bless you brother Danny 3/8/19 I just experienced this and it is the same today as it was then
Received: March 8, 2019
Please bless Juha S., his family and work colleagues. Juha is under heavy persecution. Pray that God will turn those who curse Juha into friends that bless him instead. May God provide him with strength and protection. May heavenly wisdom guide him to do the right decisions that please God.
My daughter Tuija has several health issues, and she's depressed. Please pray for her physical and mental healing. Please bless me as well in your prayers for I have been suffering for 13 years due to a painful lump in my gum. May God finally answer my prayers and heal it away! I also have nerve damage and pain in my legs and arms. Thank you for your prayers! God Bless!
Received: March 7, 2019
I has been a journey with carpal tunnel surgery. I had the surgery on Monday and I had to have more than the wrist done as my little finger and ring finger was not moving as it should. He had to operate near my elbow to correct those fingers. The surgery went well and have more strength in that hand than my other one. I was ready to go home and was dressed except for my shock and shoes. I need to use the bathroom and the nurse took me by my bad arm and lead to the bathroom but did not get a wheelchair or put socks and a belt on me. Got to the bathroom and the rooms were closed. She didn't know where to take me she turned me somewhat fast and made me lose my balance. I went down but not hard or did not fall completely on my back but the nurse went down screaming about her hip and head. They took her to the ER. I didn't feel any pain until about 3 hours later my back starting hurting. I am sure I was drugged yet from surgery. Call the doctor to let him know. He called and wanted to do an MRI. I had it yesterday and found I had a fracture in C7 and T11. The doctor order that I wear back support for 3 months. I was fitted for it today and I hope I can handle this. Also thru the MRI, they found that my one kidney is swollen. I have a test for that Monday. I didn't know a simple hand surgery would lead to so much. I am thankful that my daughter was able to be with me and will be with me until next Saturday. Please keep in your prayers as I am sure it will be along 3 months. God Bless
Eleanor
Received: March 6, 2019
I met with the the doctor this morning. She is baffled, but ruled out the worst! She has no reason to believe it's ALS (my father had it). I'll begin with physical therapy.
It's comforting to know you are praying! Thank you all! Patrice
Received: March 6, 2019
My mom had a biopsy of her lung and it was negative for any cancer in September of 2017. My mom and I are all we have. We have been through the deepest valley of our lives since 2014 leaving us without any family to depend on and more traumas than can be counted. Because of this, my mom hasn't had a mammogram in 7 years. Today they discovered calcium deposits in her right breast that they want to biopsy. She has a history of melanoma skin cancer and I am crying out to God to break the chain of cancer over her. Please pray for good results and for her to remain cancer-free! Please help us
Received: March 6, 2019
Please pray for my daughter and son-in-law... they are farmers of turkeys... they raise turkeys... but the turkeys have become sick... and there's a chance that the could lose them... Please pray that the turkeys are cleansed from any sickness and disease... Pray according ... Matthew Chapter 6 that, because God feeds and cares for the birds of the air, so will he also, take care of all living creatures. Including my daughter and son-in-laws turkeys! In Jesus name! Amen.
Thank you for all of your prayers, in Christ Jesus name!
Received: March 6, 2019
Hi my wonderfull brothers and sisters at Kinship chrotian radio!Please say a prayer for me it seems I need GODS help in every area of my life but specificaly for strength to do the routine tasks of life!GOD richly bless you brother Danny 3/4/19
Received: March 4, 2019
Holy Spirit use your supernatural power for John Mark TODAY. HE NEEDS YOUR DIVINE TOUCH. WORK ON HIS MIND, HEART, SOUL AND EMOTIONS. HELP HIM UNDERSTAND AND ACCEPT LOVE FROM MARY. I AM BELIEVING IN A MIRACLE TODAY LORD. THANK YOU.
Received: March 4, 2019
Divine Healing and Restoration for my grandson Hadriel. Having surgery today. Lord touch his body, encourage his parent that all will be well.
Received: March 4, 2019
Pray my nephew and his wife grow spiritually. Also, pray they attend church every Sunday and their work schedules enable them to do so.
Received: March 4, 2019
Please help. I am surrounded by meanness and cruelty and evil and gossip. Right to my face I was told they do not like me and wish I would leave. Spread all over. How do I handle this? Please protect me from any harm. Keep me together. Thank You.
Received: March 3, 2019
Please pray for Jake as he will be starting chemo for the 2nd time...& for his family situation.
Received: March 2, 2019
Praying for a positive breakthrough of all strongholds of unforgiveness, anger, and bitterness to be broken from Dearin so he can surrender to the power of forgiveness and love in his heart toward his son Leland and family member Joe. Praying he can let go of past hurts, and for love, compassion, inner peace and joy to be restored and he be made whole. In Jesus name, Amen
Received: March 1, 2019
Powered by Prayer Engine