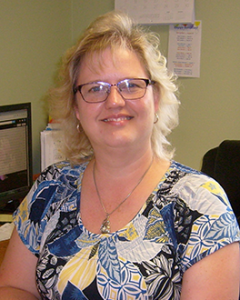 Tracy Jones
Chief Operating Officer
I joined the Kinship Radio family in October of 2008 as the senior bookkeeper. My family and I have been listeners to Kinship Christian Radio for many years and have enjoyed some of the concerts and events sponsored by Kinship Christian Radio
Previously, I worked at St. John Lutheran Church in Good Thunder, MN and enjoyed being a part of spreading God's Word through their ministry. When I left there, I really missed the fulfillment I got from working in that environment every day. When I heard about the position at Kinship Christian Radio, I asked the Lord to guide me and lead me to what He wanted me to do. He answered my prayers when I received an offer to join the Kinship family. I have enjoyed meeting new people and learning many new things.
While I was growing up, I lived in Southern Minnesota near the town of Alden with my parents and two brothers. Family is very important to me so I make a special point of visiting my parents as often as possible. They live near Wells, MN so it isn't too far to travel. My brothers live a little further away so we visit through phone calls. My husband, Dan and I have a daughter Jessica and we live in rural Amboy. As I grow older, I am realizing the importance of spending quality time with my husband and daughter and that relaxing and not always being on the go is okay.
Two of my favorite hobbies are gardening and reading. I try to spend time outside working in my flower garden or just sitting on the front porch reading or watching the wildlife in our front yard and woods. I will admit, the weeds have a tendency to get the better of me as the summer progresses.
I am looking forward to many new chapters being written in my life as my journey with Kinship Radio continues.
Rejoice in the Lord Always
Philippians 4:4