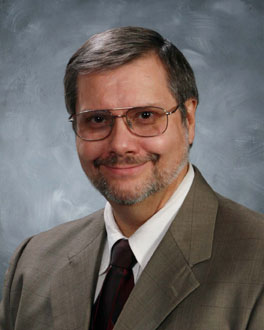 E (Earl) Mark Bohnett
Chief Engineer
I always stand amazed in looking back on life in general, how God alone can take what seems like several non-connected events and weave them into a fulfilling life.  When I was eight years of age, my father purchased for me a Radio Shack beginner's AM project kit, which I built and then listened to a local Christian radio station many hours each night after I was sent to bed.  At fourteen, I attended the High School that housed that very AM station: KPOF in Westminster, Colorado.  One of my best friends at school had an air shift in the evenings and I pulled the very records that I had heard over the air as a young man.  The General Manager of KPOF, who was also my Physics teacher, provided me with numerous FCC publications and allowed me "on-the-air" after I had obtained my 3rd Class Radio Operators license.  At sixteen, my father and mother took me to a Trans-World Radio informational meeting, where I was able to catch the vision of using radio to touch hearts and draw unbelievers to a saving knowledge of the Lord.
Not knowing specifically what God wanted of my life, I went to school and graduated with a degree in Integrated Studies in Missions from Denver Baptist Bible College and Electronic Fabrication from Front Range Community College.  During my college years, the Lord opened another ministry opportunity at KWBI in Denver, where I had an air shift from 11:00pm through the early morning hours.  In addition, I was introduced to the chief engineer, Paul Pettit, who also kept night hours and allowed me to peek over his shoulder and answered my many technical questions.  Following graduation, I married my precious wife, Carol, and the Lord moved us from Colorado to the state of Maryland, where I served for twenty-six years as the Chief Operator/Engineer for Maranatha, Inc/WOLC FM and the University of Maryland, Eastern Shore, WESM FM.
In January of 2011, being caught in the recession, my position at Maranatha was eliminated and I started my own RF Engineer Contracting business working primarily for the University of Maryland and Delmarva Broadcasting Corporation, both secular organizations.  During this season of life, I covered many miles and serviced nine RF transmission sites and three different studio locations.
Again, in God's perfect timing, a position opened in August of 2011 with Minn-Iowa Christian Broadcasting and I and my family relocated from Maryland to our new home north of Blue Earth.  God blessed Carol and I with four wonderful children of our own.  My oldest daughter and her husband reside in Iowa with our two energetic grandchildren.  Both my son and second daughter are attending school in Arizona and Carol and I have the opportunity to enjoy our third daughter who resided with us.   I praise the Lord daily for an opportunity to serve Him once again and you, our listeners, through the media of radio and the internet.  Only God could work all things for good and for His glory.  Praise the Lord.