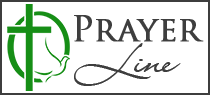 Welcome to Kinship Christian
Radio's Prayer Line!
Anonymous
Please pray for my son to get a job and a permanent place to live. please pray for him to get control of his finances and have the discipline to stay out of debt and not borrow money each month. please pray for the people who are hindering his walk with Christ to be removed from his life.
Please pray for a strong hedge of protection around him at all times and that he will be kept out of the traps of Satan. please pray for him to be kept safe from evil.
Please pray for godly friendships to enter his life and that he will draw closer to Christ and find the right church home. Please pray for a Christian to be a spiritual grandmother to him
To take the place of his grandmother who passed away last year. please pray for him to be surrounded by men of God who take their salvation seriously that can set an example for him of what it means to be a man of God. Please pray for him to fulfill the calling on his life for ministry. please pray for everything that the devil meant to destroy him to be turned around for his good and that he will lead many to Christ through his testimony.
Please pray for everything the devil stole from him to be restored sevenfold and that he will be able to handle the blessings.
Received: October 8, 2019
Powered by Prayer Engine