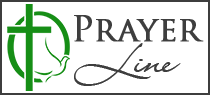 Welcome to Kinship Christian
Radio's Prayer Line!
Anonymous
Please pray for our grandson who is being bullied at school (already on the 2nd day of school)...pray that he will find a friend who will stand by and for him and who he can trust and share feelings with...and that he won't be overcome with feelings of poor self-worth and depression. Put people in his path that will encourage him and ingrain in him the knowledge that God loves him.
Received: September 5, 2019
Powered by Prayer Engine