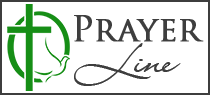 Welcome to Kinship Christian
Radio's Prayer Line!
Anonymous
Joe DeLorey will spend the night at the hospital. He had 4 stents placed today. Things went fine. Please pray for him as he recovers. His address is: 110 W. Front Street Apt. 36 Janesville, Mn. 56048-3059
Please pray for the Sandees as they adjust to a new way of life at home on hospice. They are so precious. Carol will let us know if she needs respite help at some point. Their address is: 137 Shamrock Drive Mankato
Ryan Blank is home recovering after a massive heart attack last Friday. My husband Dan will visit tomorrow and bring a meal. He will have another heart surgery in a few weeks. His address is: 304 Summit Park St. Peter Mn. 56082-1645. His daughter Hannah was baptized last Sunday and many (unchurched) family members attended- Praise be to God.
Nywana Gober is still doing therapies to get more range of motion. She is doing ok.
My husband Dan spent a few hours with Tony Blauert yesterday and had good conversation. Tony is doing ok.
Angelina May is home from the hospital, praise God.
Joni Lundquist is pleased with her progress so far after back surgery. Still some numbness and weakness but that will take time to heal. Yay!
Our prayers were answered for Chris Pierson and Magdalena's Visa to be approved when they met with Embasssy official yesterday! They will be able to visit this September form the Czech Republic. The Pierson/Kaiser families are happy.
Lucy Pacquin's daughter Jodi is having some improvements in her health. Let's keep praying!
Charlie Griese had a fall and is bruised up and sore, but on the mend. Eleanor helped bandage him up because they are neighbors (thanks Eleanor!).
Prayers for Nancy Fassett as she flies to Sacramento this Friday to live with her parents for a year while her husband Matt is deployed. They have a 1 month old baby and a 2 year old girl.
Prayers for all our graduates!! Wisdom, discernement, good choices!
Prayers for the kids and adults going on the Mission Trip to Michigan this Saturday! God grant them safety and eye opening/faith strengthening experiences.
Harry Lloyd is hanging in there at Pathstone Crossings. He is so sweet.
Virgil Peterson is utilizing his skills in ministry and music at Hillcrest, God bless him. What a precious man, although frustrated with his physical limitations, he is making the most of where God has him for the moment.
Soonki Lee will be celebrating her 80th birthday on June 25th. I wonder if we could shower her with cards? Her address is: 2025 Roe Crest Drive, North Mankato Mn. 56003
My dad and mom (Harry and Wendy) are meeting with the doctor in Rochester at this moment getting results from all the tests. May God be glorified through whatever is to come...
Love, Libby
Received: June 4, 2019
Powered by Prayer Engine