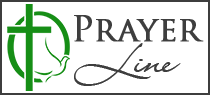 Welcome to Kinship Christian
Radio's Prayer Line!
Anonymous
Ryan Blank, who's some of you may know as a quieter guy who serves as an usher at church, had a massive heart attack yesterday at 3. He was in the cities and someone was able to get him to Fairview Southdale in Edina where he was rushed into surgery. He had five stents placed on one side of his heart and he will have to go back in for surgery for the other side of the heart. His daughter Hannah turns 12 today and is scheduled for believer baptism tomorrow. It's a really important day for Ryan and Hannah and I am so mad at the devil for interfering. Ryan wants Hannah to go through with the baptism tomorrow without him. Mike Smith is on his way to the hospital now and there are a few other friends/family with him. The doctor will be in this morning to explain next steps. Please pray for Ryan's spiritual, mental and physical health and for his daughter Hannah as she might be baptized tomorrow at the 9 service.
Received: June 2, 2019
Powered by Prayer Engine