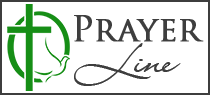 Welcome to Kinship Christian
Radio's Prayer Line!
Anonymous
Please pray for Monica. She was diagnosed with breast cancer in January and there have been many, many happening to deter treatment - infections, reschedules, etc. She is really trying to stay positive and lean on the Lord, but please pray for her to get through this.
Received: March 28, 2019
Powered by Prayer Engine