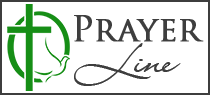 Welcome to Kinship Christian
Radio's Prayer Line!
Anonymous
Pray my father has no cancer, is not in pain, is comfortable, content and relaxed. Pray he swallows food easily and eats 3 good meals every day. Pray he has no lymph node problems, no clotting, no problems with his prostate, bladder and kidneys. Also, pray he has no sores on his body and his skin is not too thin, as well as that he is not mistreated by anyone in the facility he resides in.
Received: January 7, 2020
Powered by Prayer Engine