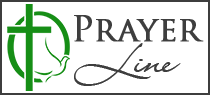 Welcome to Kinship Christian
Radio's Prayer Line!
Anonymous
I'm still grieving over my son Zach who shot himself in Feb,2019. My son Tyler,28 is a lost wondering soul who has no purpose in life. My daughter, Alyssa, 18, is my true angel who is a blessing from God and needs guidance for college and career path. I personally just need Gods strength, peace and guidance for my nursing career and possible change in a different pathway to better serve the Lord. I need to feel peace in my work and life.
Received: November 28, 2019
Powered by Prayer Engine