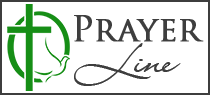 Welcome to Kinship Christian
Radio's Prayer Line!
You may add your prayer request to our prayer wall using the form below. Once your prayer request is received, we will share it according to your instructions. Feel free to submit as many prayer requests as you like!
Praise the Lord! Thank you for praying for my uncle, Craig. A couple weeks ago, the doctors were telling us to prepare for anything. He wasn't getting any worse, but he wasn't getting any better either. They had no idea what was going on with the infection. This past weekend, he was released from the hospital and is now home and doing great!!
Received: March 22, 2018
I praise God that the Good News of Jesus Christ is being shared in many creative and gifted ways throughout this community!
Received: March 21, 2018
Update on Nancy. Sunday March 18 Nancy went to be with the Lord. My brother James is a vulnerable adult. They were married 36 years she was 58. James is having to move back to Minnesota. He lives in southern Texas. He has very little money. Please pray God will provide moving expenses as well as living expenses
Received: March 21, 2018
Please pray that the sale of our home in Byron, Ga closes on March 27th if not before then for the glory of God and for our good. May the Lord send us good news today regarding the sale and close of our home. That the Lord will prompt the buyers of our home to do everything necessary to get this done as quick as possible. May the Lord strengthen our realtors and give them wisdom and direction.
Received: March 20, 2018
This is a praise! My son Sylvan, who is 7 months now, has flipped over! I'm just so blessed everyday, how God continues to help my little son grow, thank you God, and I praise your name!
Received: March 20, 2018
Lord, I am grateful for everything you have done for me, I need you close to my heart, I pray for money to get caught up on rent. My landlord is becoming upset with always being late. I pray that he gives me one more chance. In Jesus name I pray. Thank you Jesus
Received: March 19, 2018
Please pray for Ken and Ermalyn, that they may find peace and love again; forgiving one another and working together in raising their girls; one of which has diabetes. Both girls are stubborn, disrespectful and play their parents against each other. Give us patience and wisdom in ways we can serve and help them in the short time we have while we're visiting. (They are active in Church and love the Lord... but cares and worries are weighing them down).
Received: March 19, 2018
Prayers for wisdom and direction on a making a decision about what direction should go on a job change. Thank you
Received: March 18, 2018
Barb is asking for continued prayer for her father. His body is filled with cancer and his days are up and down. Pray for those who are caring for him. Give them wisdom about treatments. Pray for her father, that he would seek the Lord for comfort.
Received: March 15, 2018
Please pray for Shirley. She has struggled for years with depression, has had a nervous breakdown and tried to commit suicide. She is really struggling.
Received: March 15, 2018
Powered by Prayer Engine