2023 Women's Conference Mini Sessions & Descriptions
Click HERE for the conference schedule
FULL – 1.Homemade Note Cards: The Bible tells us of the grace of God; hymns sweetly sing of amazing grace. This class is all about creating three beautiful note cards. Each of the three cards will be uniquely designed with a scripture or a hymn all pointing to the grace offered to each of us in Christ. This class is designed for those that would classify themselves as not "crafty" and for those that are "crafty"! Every card is prepared and ready to assemble. Come enjoy creating beautiful note cards to keep or share with a friend! Sarah Olson*
2. Joy, God, and Our Brain: It's tough to grow without joy. We will show how to 'train your brain' to amplify joy. It will be an entertaining and inspiring presentation to build a joyful identity to change your life." Dave Andros, licensed psychologist.  Ryan Freed talks with Dave Andros from Freedom Counseling Center about what this mini session is all about.

FULL – 3. Grandparenting Matters: Get ideas to equip you with best practices to help pass on your faith, overcome grandparenting obstacles, and provide a strategy to reach the hearts of your grandchildren. Robin Carlson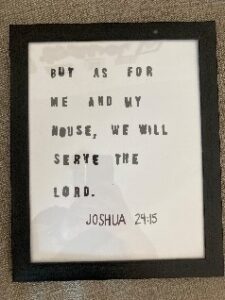 FULL – 4. Stamping into Memory: We will use alphabet stamps to stamp out a piece of decorative framed art with a short verse or phrase. Each lady will take home an 8 x 10 framed piece of wall art to remember the day's teaching. Meghan Andrukaitis*
5. When the Unforgivable Becomes Forgivable: What happens when you experience an unforgivable tragedy and God calls you to forgive? The power of forgiveness not only changes lives, it changes everything. Gwen Besser
6. Managing Your Emotions, Keeping Your Feelings from Running the Show: Are your emotions in control of you? You don't have to be trapped by negative emotions and let them run your life. Through scripture and real-life examples, we will look at how emotions, good and bad, are a vital part of God's good creation, and learn how they can serve us and not enslave us. Julie Bashore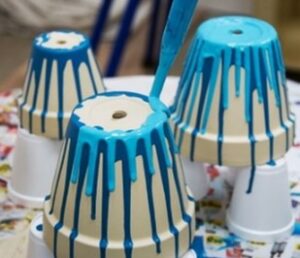 FULL – 7. Drip Painted Pots: April showers bring May flowers…… and they will need a container!  Learn a fun and easy way to paint your own personal drip design on a clay pot.  Join us to create your drip painted terra cotta flower pot that you can take home and plant up those beauties! Beth Erdman & Jan Ware*
FULL – 8. Connecting With Teens: God created us for connection but many struggle to connect with a teen.  This session will give an overview on how to respond when tackling tough topics, discuss how emotions can be opportunities for connection, and explore methods and tips to avoid conflict and bring resolution. Heather Jackowell, MA, LPCC

FULL – 9. Street Evangelism: How to Talk to People About Jesus: How do you start a conversation about Jesus with someone you've never met before? What do you say? How do you overcome your fear? We will cover preparation, initiation, content, and share ideas on effective witnessing for Christ. Dan Jones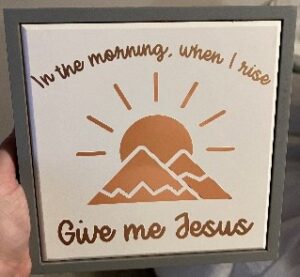 FULL – 10. Give Me Jesus Sign Making: Spend your mini session time making a sign with the design "In the morning, when I rise – Give Me Jesus" on a stained wood background. No experience necessary! Jessica Jones*
FULL – 11. Gomer Comes Alive to Tell Her Story:
Do you sometimes feel unworthy of God's love? This dramatic monologue of Gomer, (the prophet Hosea's unfaithful wife) will powerfully demonstrate the radical and seemingly ridiculous lengths God goes to in order to show you His unconditional love…for YOU.  As you watch and listen to Gomer come alive and speak, you will realize, dear one, that you are loved and chosen. Arlene Gabrielson
FULL – 12. A Laughter Lifestyle: Laughter is good for our mental health, friendships and perspective. We'll explore what the Bible says about laughter and why we need it. Come ready to laugh with others and make new friends. Audra Shaneman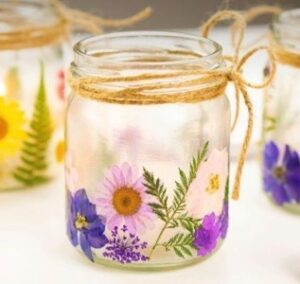 FULL – 13. Flowers and A Hug:  In this mini-session you will make a flower covered votive cup. Make it for yourself and then make more, on your own, to give to friends. Lynn Frandle & Erin Grunzke*
FULL – 14. Song of Songs 4:7 'You are altogether beautiful, my darling; there is no flaw in you'…     But let me help you with your hair: Are you a part of the population of women that good hairstyling eludes you?   If that is the case, I am your girl. I will ask for volunteers who need help with how to successfully use a flat iron or curl iron or who are 'style challenged. Ruthie Webster
FULL – 15. So practically speaking, what do we do while we wait?  It's true that while we are waiting God is working, but what, if anything, are we supposed to be doing in the meantime? Fortunately, our "in the meantime" is not wasted time. In fact, it is in this time that God is oftentimes doing His best work in our lives! Kirsten King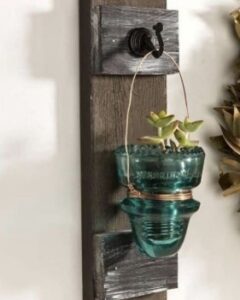 FULL – 16. Reclaim and Recycle: Create some awesome wall decor from a piece of reclaimed wood and a vintage insulator! Could be used as a little planter or a votive holder! Kristy Grunzke*
17. Botanical Blessings: Live beautifully with flowers! Let Kathy Van Tol, former owner of Hilltop Florist and Greenhouse, her assistants Sarah Gilberto and Trisha Sizer, demonstrate bright new Spring Inspiration to beautify your home and lifestyle. Each will present a stunning design using fresh and botanical flowers. They will share with you tips and tricks of the trade, showing you how easy it is to create beautiful floral designs. It's time to BLOOM!!!!
*Pictures that are shown are representations of the projects that will be made, not the actual items.