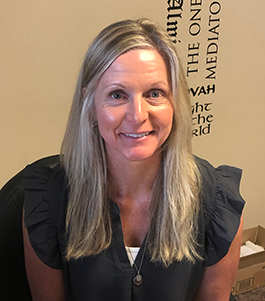 Tiana Schoen
KJLY Office Administrator
Hello, I am new to the incredible staff and volunteers of Kinship Radio. I am still in awe of being within this ministry getting to walk alongside so many. All in and for God's Glory.
Most of my career thus far in life has been a Mama to my now 3 adult children along with many years working within a public school system with children with special needs.  I have had a few other positions within the years that have equipped me well to be where I am today within my office position at Kinship Radio. Because I enjoy transparent relationships, reading and learning, I have been taking Christian Life Coaching courses to gain skills to exhort others as God directs.   During the years of raising my children I lived in the middle of the woods about an hour north of the Minneapolis metro area. My move to this area was ordained by God as I recently became a wife again in February 2021, after being a widow for six years.
My husband, Mike, and I live in Mapleton, MN. We are active with Celebrate Recovery within our church. We enjoy praying, biking, hiking, kayaking, being still in nature, studying scripture, gardening, working on our house together, many giggling moments, traveling, being with the children and grandchildren and our extended family members as well having the opportunities to continue in growing friendships.
I find great joy when I or others who walk with one another through trials or joys are gifted 'Aha' moments. All by and for the Glory of God!