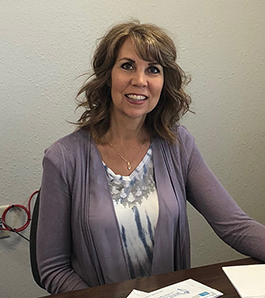 Molly Campbell
KJYL Assistant Office Manager
I grew up in a Christian home with my older brother and 2 younger sisters, on an acreage near Sioux City, Iowa. My sisters and I would often visit our "neighbor", which happened to be a Christian radio station!
I was blessed to attend a Christian school where I learned to love the Bible and serve others. I came to Christ one day during our Vacation Bible School and have continued to soak up all I can about Jesus and living a vibrant Christian life for Him.
I married my high school sweetheart, Terrill, a year after graduation and we enjoyed living in a number of locations across Iowa as we transferred with his company (Fareway) and in his role in the Fareway meat department.
Life was sweet…living and loving my husband and three children…until my doctor discovered I had a pituitary tumor.  I underwent the needed brain surgery at the age of 30 and learned to really trust God with my life and my family.  God's ways are perfect and He chose to miraculously heal my body and we were blessed with one more baby.
We now live on a hobby farm where I home-schooled our four children and raised dogs, cats, cows and chickens.  I also taught Physical Education and coached volleyball for 13 years.
Life is sweet and still full as we have been married for 30 years with two of our children married and our younger two kids are now graduated and "learning to fly".  (I'm practically an empty nester!)
I stay busy with family (and loving my two Grand babies who are my sunshine!), friends, church, a Moms ministry, two part-time businesses and bicycling with my husband all over Iowa.
I am thankful for the ministry of Kinship Christian Radio and have been a listener for over 20 years.  KJYL has played an integral role in raising my family, loving my husband, and serving my Lord. I count it a privilege to work and serve at KJYL.