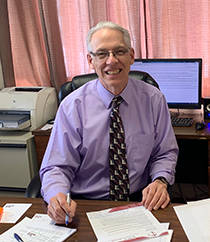 Matt Dorfner
Executive Director

This "bio" section reminds me of the times as a kid when I would occasionally page through my older sister's Teen magazines that had "bios" of the latest singing heart throb (remember a young Donny Osmond, Bobby Sherman and "Keith"). (By the way, did you know that this "Keith" was/is Keith Green?) These teen mag pictorials always seemed to have a little sidebar with the obligatory fill-in-the-blank questions where the celebrity would share his most "intimate" secrets like: "My favorite food is _________" and "In my spare time I _________."
If names like "Donny", "Bobby" and "Keith" are familiar, you may recognize in me a fellow 60's baby-boomer. Out of the relative chaos of my choices and formative years spent (or mis-spent) growing up in Bloomington, MN in the 60's and early 70's, the Lord has brought me to the ministry of Minn-Iowa Christian Broadcasting. As Executive Director of "Kinship Christian Radio", with its eight Full Power FM stations and 14 FM Translators (repeaters), I now have the pleasure of helping guide the radio presentation of the Gospel of Jesus Christ to the people of Minnesota and Iowa. Amazing grace to be sure, as I was about the last person friends, classmates (and I, myself) would have pegged to be involved in Christian ministry when I was a teenager! Finally saying "yes" to God and becoming a Christian at age 19 began an incredible journey that has brought me to this place of living out my "heart's desire" and love for radio in its highest possible expression.
My wife, Lynette, and I are the blessed parents of three wonderful children, (Aaron, Bethany and Micah) two beautiful daughters-in-law, (Megan and Sara) an awesome son-in-law (Marcel) and three of the most amazing grandchildren – Gavin, Reese and Lucianna.  We live in a beautiful, old (really old …120 years!) home that occupies much time and delight and the occasional frustration as we fight an enjoyable but losing battle against the law of entropy. Oh, well … this world is not my home anyway!
Much more could be said but you are probably getting bored. Should you have any questions, though, e-mail me at MattD@newmail.kinshipradio.org and I'll get back to you! God Bless You!