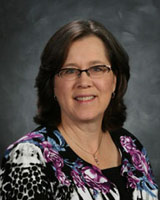 Lynette Dorfner
KJCY and KJIA Community Relations Representative

While I only joined the Kinship Christian Radio staff in May of 2010 as the Kinship Christian Radio "Community Relations Representative", I am the biggest fan of a radio personality heard on Kinship Christian Radio for over 30 years… Matt Dorfner (my husband)! The Kinship Christian radio ministry has been a part of our family for many years and I am blessed to be a part of the staff.
As the Community Relations Representative, my role is to reach out to area churches, ministries and listeners which should be a natural extension of what I love most-the Lord, people and the ministry of Kinship Christian radio! In addition to my Community Relations responsibilities, I am the Office Manager of the KJCY Outreach office in Osage and the Office Manager of the KJIA Outreach office in Spirit Lake.
By way of background, I was born in Minneapolis and raised in Bloomington, MN by loving parents. I am the oldest of three daughters and attended grade school at a Missouri Synod Lutheran School where I was taught scripture and the Bible Stories. The principal of the school was a very Godly man and made a deep impression on me (even though I thought he was too strict).
My Junior and Senior High years were a little on the crazy side due to the "times" (late 60's and early 70's). But God's Word was planted in my heart and He was waiting for me to allow those seeds to grow and blossom.
Matt and I met in May of my senior year and were married the following year in August. After Matt finished college in Marshall, MN we moved to Albert Lea, MN. There the Lord brought a wonderful Christian friend into my life. She brought me to a ladies bible study that her Mom was leading. It was there where I met Jesus as my personal Savior and began to understand all that I was taught as a grade school child. During our years in Albert Lea, our family grew in the ways of the Lord and we were blessed with a large fellowship group that was instrumental in our lives.
We have three great children, two wonderful daughters in law and the three cutest, most talented and smartest grandchildren in the world!!! Our son, Aaron, lives in Midland, Texas with his wife Megan and their children Gavin and Reese. Our daughter, Bethany, moved to Midland, Texas almost three years ago, to be near her brother and his family. Bethany and Marcel were married September 1st, 2017 and have a beautiful daughter, Lucianna. As loving and doting grandparents, we make many trips to Texas to be with our grandchildren. And our youngest, son Micah, married Sara, September of 2014 and they live in Mankato, MN.
Spending time with family and friends is my favorite thing to do. But I am truly passionate about my "other profession" of floral design! I have created fresh, silk and plant designs for over 40 years for fun and as a business. I love to teach and demonstrate this skill so if you have a group that would like me to come, feel free to contact me.
"Delight yourself in the Lord and He will give you the desires of your heart." Ps. 37:4