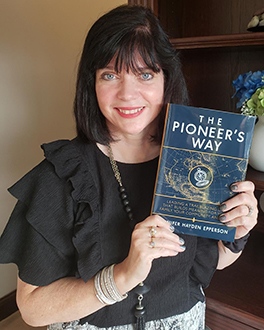 Dr. Jennifer Hayden
Executive Director
Jennifer Hayden's life has been deeply impacted by the life-changing impact of Christian radio, Jennifer has been grateful to have spent three-and-a-half decades in the industry.
Previously, she was Moody Radio's Director of Research and Learning and has been station manager of WRMB-89.3 FM (Moody Radio) and WFIF-1500 AM (Blount Communications).
Jennifer has worked and taught in international contexts and spent five years as the Executive Producer of TWR's Women of Hope radio program.
Jennifer holds a doctorate in organizational leadership and has taught leadership and radio on the university level. She has been active as part of the National Religious Broadcasters (NRB) Radio Committee and is a member of the NRB's board of directors.
Recently, she released her first book, The Pioneer's Way: Leading a Trailblazing Life that Builds Meaning for Your Family, Your Community, and You.