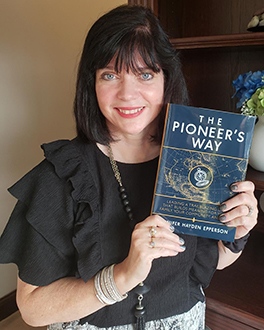 Dr. Jennifer Hayden
Executive Director
Jennifer Hayden is the newest addition to Kinship Radio's team! As her own life has been deeply impacted by the life-changing impact of Christian radio, Jennifer has been grateful to have spent over three decades in the industry.
Previously, she was Moody Radio's Director of Research and Learning and has been station manager of WRMB-89.3 FM (Moody Radio) and WFIF-1500 AM (Blount Communications).
Jennifer has worked and taught in international contexts and spent five years as the Executive Producer of TWR's Women of Hope radio program.
Jennifer holds a doctorate in organizational leadership and has taught leadership and radio on the university level. She is the chairwoman of the National Religious Broadcasters Radio Committee and is a member of the NRB's board of directors.
In October, she released her first book, The Pioneer's Way: Leading a Trailblazing Life that Builds Meaning for Your Family, Your Community, and You in October 2020.