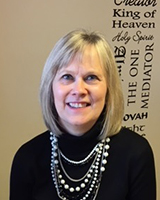 Deb Caldwell
KJLY Asst. Office Manager
"But without faith it is impossible to please Him, for he who comes to God must believe that He is, and that He is a rewarder of those who diligently seek Him" (Hebrews 11:6 NKJV). These words never became so real until the day our 30 year old daughter, Victoria, passed away after a courageous battle of cervical cancer. Her strong faith was a witness to me as she passed her torch of faith from a daughter to a mother. Following her death in 2011 and 7 other relatives in 9 months the next year and then an automotive rollover accident in April 2017, my quest to know the Lord became an even stronger pursuit.
I married my husband Gary of 41 years after moving from Pennsylvania to the small town of Amboy, MN and together we had three beautiful girls. Jennifer, Vicky, and Kathy. We also have one grandson, Parker that really has added some extra spice to our life.
God's love for us never fails and truly did reward me with the position of Office Assistant for Kinship Christian Radio in January, 2018. With my Organizational Management Degree and finishing my Master's Degree in Pastoral Ministry, God has allowed me to utilize my knowledge in all areas.
I am blessed to be a part of this staff that loves the Lord and loves others. The Lord is truly close to the broken-hearted and rewards those who diligently seek Him.