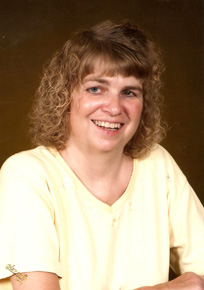 Bev Cother
KJIA Office Administrator

I have the joy of serving at the KJIA Outreach and Business Office located in Spirit Lake. I began by volunteering in September, 2010 and was pleasantly surprised when I was offered a part-time position as office assistant.
I was raised in a Christian home with my three brothers on a farm near Edgerton, which is a small Dutch farming community in Southwest Minnesota. I attended Edgerton Christian Elementary and Southwest Christian High School which provided me a biblically based education. This foundation prepared me to understand and accept how I at the age of 25 could go from a healthy, active person to someone with crippling rheumatoid arthritis. Twenty-five years have passed since my diagnosis and I can give thanks for my "thorn". What a blessing it was when I was forced to "retire" from my administrative assistant position at Lakes Regional Healthcare in Spirit Lake to be a stay-at-home mom. No more hectic, fast paced life, but precious time to devote to my family and getting well. After having several joints replaced, I wanted to be involved in the community and make a difference. I have volunteered as my daughter's Girl Scout troop leader, the secretary for the Low Vision Support Group, office help at Iowa Hospice and, of course, participated in many church activities.
My husband, Terry and I live on an acreage on the outskirts of Spirit Lake. Our two daughters, Amber and Breanna have moved onto their next phase of life. I enjoy scrapbooking, creating cards and having lunch with friends. I am grateful that God has called me to KJIA where I can continue to use my gifts and abilities.