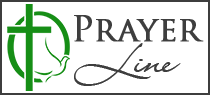 Welcome to Kinship Christian
Radio's Prayer Line!
Sandra
Please pray that Dick's blood circulation in his legs and toes will be completely restored and he will not lose any toes, as he currently has gangrene. Please pray also that Herman will completely recover from delirium and will be able to eat and drink again. He currently is on a ventilator and feeding tube. Thank you so much for your prayers!
Received: September 11, 2019
Powered by Prayer Engine