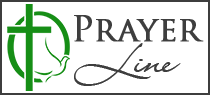 Welcome to Kinship Christian
Radio's Prayer Line!
Anonymous
Please put this URGENT Prayer request on the prayer chain.
Our niece, Raeane, has been diagnosed with a muscle wasting disease. She was told today it is one of the worst kinds to get.
We know nothing else about her prognosis but already she is disabled and sits in a recliner and can only walk short distances with
a walker. She really needs prayer for healing and peace of mind as this is a difficult diagnosis!
Thank you,
Tom and Kathy Brunz
Received: August 28, 2019
Powered by Prayer Engine