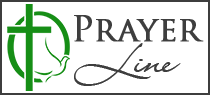 Welcome to Kinship Christian
Radio's Prayer Line!
Anonymous
Patrice last blood test came in showing elevated levels of antibodies. I have neurological autoimmunity. I am scheduled for an appt at Rochester Mayo July 31, I hope to get a clear diagnosis them. Thank you for the prayers support. She finds comfort in 2 Kings 20.5. This is what the Lord says: I have heard your prayer and seen your tears will heal you.
Collen wrote that her Dad (Earl had a CT scan this morning and had a bad reaction to the medicine they gave him to prepare for it. He is now on his way to St.Mary's Hospital in Rochester to see a urologist, Please pray for him. Thanks.
Received: June 7, 2019
Powered by Prayer Engine