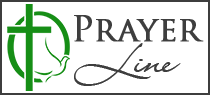 Welcome to Kinship Christian
Radio's Prayer Line!
Tracy
Please pray for Carol Jean. She is in the Nursing Home having fallen again and has had a concussion. She said she is in a "snit" and is feeling anxious. She said she needs people to pray for her. Her husband, Ron visits and prays for her regularly, but please pray for our dear friend.
Received: June 6, 2019
Powered by Prayer Engine